WELCOME , glad you are here!
•  Need An Invoice?
Click on "My Profile" underlined in red underneath the name badge.
From your profile page, click on the gray "My Profile" tab.
Select "Invoices", second from the bottom of the drop-down menu.
Not Receiving Our Emails? Many school districts have very strong SPAM filters in place and a great deal of our emails, including invoices and reminder emails for seminars for which you may register, are blocked. Please inform your IT department of TASSP so they can add us to the approved senders. Also, make sure your member profile is up-to-date! 
      
---
TASSP VIRTUAL SUMMER WORKSHOP: June 16-18, 2021

Get Ready to ANSWER THE CALL! The FIRST-EVER TASSP VIRTUAL SUMMER WORKSHOP IS COMING TO YOU …in the comfort of your home, your office, or in a B&B in the beautiful Hill Country! The program is packed with the BEST speakers who CHOSE to be with you during this time of recovery and renewal!
This professional development is open to and appropriate for all educators. The topics focus on leadership, instruction, mental health, social and emotional learning, and more. Don't miss the learning. ANSWER THE CALL!
Registered? Get access to the SCHED TASSP Summer Workshop site: 

CLICK HERE

  
---
FEATURED NEWS:
Click here to read the 2020-2021 Academic Excellence Winning Essay

 

By Sneha Mokkala, Clear Lake High School, Houston, Principal: David Drake

Check out our JOB POSTINGS page!
Congratulations to our TASSP State Principals of the Year

:

 

Shon Joseph, Principal, DeSoto High School in DeSoto ISD and 

Shannon Cunningham, Principal, Kirby Middle School in Wichita Falls ISD. 

State Assistant Principal of the Year: 

Dr. Amber Grady, Assistant Principal, Lake Olympia MS, Missouri City in Fort Bend ISD. 

View all the State Finalists and Region Winners 2020-2021 Principals and Assistant Principals of the Year
---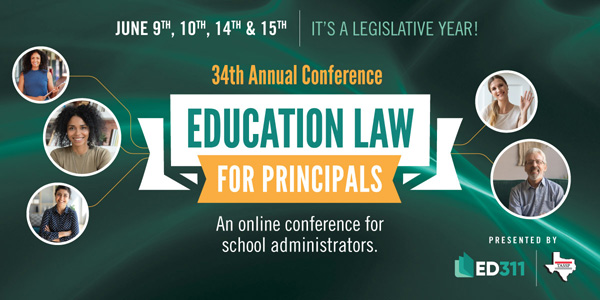 Don't Forget to Register for the
2021 Conference on Education Law for Principals
Presented by ED311 and TASSP - Details and Registration through ED311 CLICK HERE
---
NOTE: If you need to reach anyone at the TASSP, TASC, or TAFE offices, please email them. You will be contacted shortly either by email or phone call. Click on this link to locate staff member email addresses. Thank you for your cooperation!
---
Special Thanks to our TASSP Corporate Partners! Click Here 
       
---
NOTE: TASSP publishes two digital newsletters: the News Highlights (4 times a year) and E-Notes (bi-monthly). These digital newsletters are sent to the primary email listed on your member profile. Make certain that www.tassp.org is an approved site on your district server.
April 30, 2021 - Deadline to submit Retiring Form