---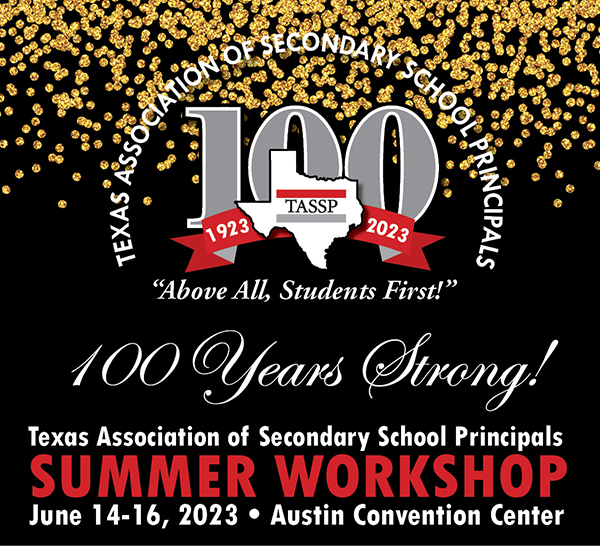 You will not want to miss the 2023 TASSP Summer Workshop! We believe that principals, assistant principals, directors, teachers, and district administrators are best-positioned to ensure uninterrupted years of excellence in instruction for every student. And thus, TASSP builds research-based and practical professional development programs that promote the capacity to create innovative solutions to the ever-changing educational needs and personal interests of a diverse student population. Commit today. Bring a team from your district, your graduate class, region service center, and more to this highly-regarded TASSP Summer Workshop. Invest personally in your professional growth and life-long learning.
2023 SUMMER WORKSHOP REGISTRATION
Speakers Include: Jack Berckemeyer, Kim Strobel, Kim Campbell,
Paul Vitale, Baruti Kafele, Morris Morrison and much more!
SUMMER WORKSHOP HOUSING IS NOW OPEN!
Book in the TASSP Hotel Block and Save!
---
At TASSP's Summer Workshop you'll have the chance to:
• GAIN insight into current and changing trends for the 21st-century campus
• HEAR from world-renowned speakers that guarantee to inform and inspire
• LEARN valuable leadership skills and best practices applicable to the field of education
• CONNECT with peers & corporate partners from all across the state of Texas 
We look forward to seeing you at the TASSP 2023 Summer Workshop! This is the annual conference hosted by TASSP and is attended by over 2,500 principals, assistant principals, directors, professors, aspiring administrators, teachers, counselors, and students. Educators from around the nation join Texas educators at this nationally recognized conference. The schedule and more details are coming soon - Stay tuned!
Don't miss the learning opportunity!
"Every Student, Every Opportunity, Every Chance"
SUMMER WORKSHOP | JUNE 14-16, 2023 | AUSTIN

TASSP Member fee: $295 (after May 22, 2023 - $345)
Non-Member fee: $495 (after May 22, 2023 - $545)
SUMMER WORKSHOP REGISTRATION»

Payment for onsite registration must be presented at registration. Acceptable forms of payment: Personal or District Check, Personal or District Credit Card, District Purchase Order, Cash. 
Cancellation requests must be emailed to Shannon Murdock at [email protected] by May 22nd.
There will be a $150 cancellation fee for each cancelled registration after May 22nd.
WOMEN IN LEADERSHIP LUNCHEON TICKETS | $50
JOSTENS NIGHT OF THE STARS | Texas Heroes Awards Dinner:
AWARDS DINNER REGISTRATION »
Tuesday, June 13, 2023  6:00p - 8:00p
Austin Marriott Downtown Hotel: 304 East Cesar Chavez Street, Austin
$70 adult (age 12 & over)  |  $30 child (age 11 & under)
Honoring TASSP Texas Heroes: Outstanding Principals and Assistant Principals of the Year, Retiring Principals, Past Presidents.
Join us at the Annual Jostens Night of the Stars where we celebrate outstanding leadership in secondary schools in Texas. The event is open to all workshop registrants and guests. The meal is a delicious three-course dinner served while attendees enjoy a fun evening networking with colleagues and entertainment. Don't miss the celebration - ALL ARE WELCOME! (Dinner registration is separate from the Summer Workshop registration.)
 HOTEL RESERVATIONS» BOOK IN THE TASSP HOUSING BLOCK!
Don't Miss our 100-Year Anniversary Celebration!

---
TASSP Summer Workshop is a Blast!

Future Summer Workshop Dates:
June 14-16, 2023 – Austin Convention Center


Lead a session in 2023!

 Fill out the 2023 Summer Workshop Session Proposal Form!
June 12-14, 2024 – Austin Convention Center
June 11-13, 2025 – Austin Convention Center