TASSP Vision

To offer Texas principals and assistant principals a forum to explore the best practices in school administration with the ultimate goal of helping facilitate student learning. It is the intent of the organization that we honor our motto, "Above All, Students First," in all that we do.
Texas Study of Secondary Education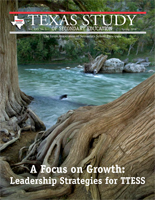 Texas Study of Secondary Education is a professional research journal used by members, university certification programs, consultants and professors of education for a dual purpose: to publish and to read. The Texas Study is published biannually and distributed to members by mail. The journal is also accessible online for members only.
Write for the Texas Study!

Have you written a scholarly article you would like to be considered for publication? TASSP would love the opportunity to review articles written by YOU for possible print in our Texas Study bi-annual journal. Click Here
NEW OPPORTUNITY! You are encouraged to share positive ways you have worked with staff and students through COVID-19. We will add a section in the publication for you to describe effective strategies for working remotely with staff, students, and parents. In this section, we will publish "blog-like" submissions that have been selected by the Texas Study Committee members. Selection will be based on quality of writing, relevancy, innovation, and practicality.
Fall Article submission deadline is October 1 or Spring deadline is February 1.
---
TASSP NewsHighlights
News Highlights is the TASSP newsletter published digitally five times a year. It includes information pertinent to upcoming workshops, legal advice from an attorney, and articles written by officers and staff. The newsletter is distributed to TASSP members and educational associations.
Members are also notified about TASSP events and critical information through topic-specific e-notes and e-blasts, electronic newsletters.
Online versions are available to current members only. 
View issues of TASSP News Highlights » (Members only)